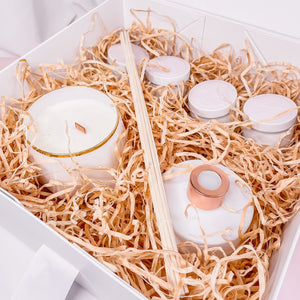 What's been said
"This was exactly what I have been looking for!
For too long I have been wasting my time creating my own welcome gifts, because I struggled to find the perfect business to do it for me.
Now, my clients are getting gifts without me having to life a finger, and my time is being better spent elsewhere, thank you!"
Corporate Gifting
In the fast-paced world of business, time is your most precious asset. 
Struggling to find the perfect gifts for clients, partners, or employees can be a daunting task, eating into your valuable hours. That's where our innovative Corporate Gifting Solution steps in, offering you a reprieve from the gift-giving dilemma. 
Picture this: a meticulously curated selection of gifts, elegantly packaged, and delivered seamlessly – all with a fully automated approach that liberates you from the hassle.

Our solution recognizes that your time is better spent focusing on what truly matters, like building relationships, growing your business, and achieving your goals. 
By entrusting us with the responsibility of sourcing, packaging, and delivering exceptional gifts, you regain the hours you'd otherwise spend on this demanding task. 
We understand the challenges you face, and we're here to turn the tide. Elevate your corporate gifting game, invest in the art of appreciation without the effort. 
- TFD Candle Co.